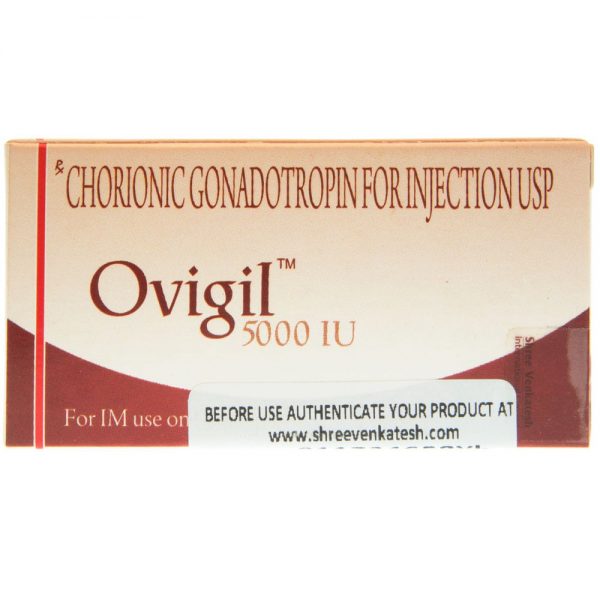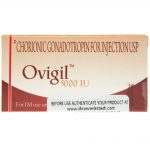 HCG Human Chorionic Gonadotropin – 5000iu
£18
Description
**This item can be substituted with a different brand of hcg**
Ovigil is a product used in the post cycle therapy. Its purpose is to get to the normal state the production of testosterone, which is reduced after the use of anabolic-androgenic steroids. Its active substance is HCG (Human Chorionic Gonadotropin), which is a protein hormone. In medicine, Ovigil is used to treat sexual problems and sleep disorders.
If Ovigil is not used in the post cycle, sexual dysfunctions connected with the reduced production of testosterone can appear. Rapid loss on weight and strength are also common and continue until the production of testosterone is on its normal level. Ovigil helps to treat these problems, but less than one condition – the taken doses of anabolic-androgenic steroids must be gradually reduced.
There is also a possibility to use Ovigil together with anabolic-androgenic steroids. This should be chosen, if the steroids are taken in high doses or for long time periods.
How to Use Ovigil
For the best results, Provigil should be used with products containing Clomiphene Citrate – Clomid, for example. Both of them have positive effects on the production of testosterone. Clomiphene citrate remains in use several more weeks after the income of Ovigil is ended.
The maximal duration of the cycle where Ovigil is used is three weeks. It is used every fourth or fifth day in the amount of 1500 – 3000 I.U.
Side Effects
Amongst the possible side effects of Ovigil may be nausea, diarrhea, dizziness or acne. Sometimes Gynecomastia is a problem. In some cases serious allergic reactions occur, affecting above all the skin.